ホーム > タグ > AJW
AJW
MD) How do you feel now after wrestled 2 shows in US?
I feel so good!! Now I really want to come back here again.
MD) What do you think about American fans?
I like them a lot. They were totally different from Japanese fans. They are very honest and respond directly to wrestling itself, so I was very happy to be in the ring and wrestled in front of them. Japanese fans are very picky and stick to negative points and tend to criticize wrestling. On the contrary, American fans stick to good points and try to enjoy wrestling. They get excited more and more as matches go so I tried to respond to their cheers.
MD) What is your impression on CHIKARA?
The atmosphere was very good and I was so impressed at them. I was also very impressed at Mike Quackenbush's  leadership. All the wrestlers and staff at CHIKARA were very nice and I trust them a lot. I was very comfortable working with them.
MD) Did you notice any differences from Japanese promotions?
Actually I don't know well about Japanese promotions (LOL)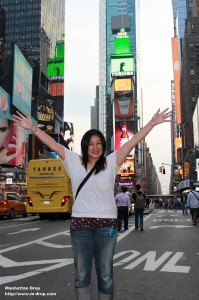 MD) Your original moves are very unique but how do you create those moves?
I don't make new moves recently but basically I just think of new moves. And try those moves several times during practices, and make it to the final version. I don't watch other promotions, so I always ask other people if someone else uses those moves,  and make it as my original if no one uses it. Actually some moves were already used by others so I dropped those moves and never used again.
MD) So you don't watch men's wrestling?
No. I don't even watch WWE either.
MD) What is the reason you don't watch other promotions?
If I see it, then I would like some of the moves and try to use them. But I think to be the best wrestler, you must be a wrestler that other wrestlers want to copy you, and not you copy other wrestlers. I don't want to copy others that's why I don't watch other wrestling.
MD) That's very interesting! What made you to be a pro-wrestler?
When I was in middle school, I saw AJW live which featured Crush Girls, then interested in wrestling.  However, I know I'm a bit different from others but Crush Girls were not my main reason. At that time, wrestlers joined AJW right after they graduated from middle school. I saw young wrestler whose name was Kazue Nagahori, and she was almost as same age as mine. She was still a student so she had lots of work at the show but she looked so energetic and happy. I was very curious why such young girl with so much tough work looked very happy. I kept watching AJW since then to find out the reason. Then I was getting into AJW because it was very attractive and gorgeous in any ways – they were like celebrity stars to me. I liked sports as well, so I thought this is what I have to be. Also I was just a student in rural area so I wanted to go to Tokyo and become famous. So I took the audition and luckily I passed the audition.
MD) Was AJW gorgeous place as you expected?
No! (LOL)  If you see them from outside, it looked very attractive and gorgeous world. Inside was not. Every morning I woke up, I thought I would quit today. I expected training was very tough, so it was not a big deal although it was really hard. The most hardest part was, it was girls' world so there were lots of tensions going on among here and there and that was really tough. But I am not sensitive person, so I didn't feel that much if someone was very tough on me.
MD) Do you know how many people was in for audition?
I heard around 2,500 people. Then 7 people passed in the end. I was one of the last person to be debuted among those seven. I was very upset and disappointed as I was the last one, so I decided to be the best among seven of us. I am very competitive and don't like to lose.
MD) Do you have any bad memories from AJW days?
I had a lot of bad experiences but I believe I needed those experiences for me to grown up. I really didn't care bad things and I forget them when I sleep overnight. I am very positive person.
MD) What does AJW mean to you?
It was a root of my life. I love AJW. I don't exist today if I didn't go through AJW.
MD) Who do you respect?
Itsuki Yamazaki.
MD) Why? Can you describe what type of person she is?
She is like god to me! She was my first trainer at AJW. She was very quiet and independent person so I felt she was not an accommodating. Also she didn't teach other people that much. So I was following her all the time and asked her to teach me drop kicks and stuff, then she became very friendly to me and taught me many things. Maybe she tested me in that way.
MD) What do you think about New York? Do you like it here?
I was very worried before I came here because I can't speak English. But I walked around town and I really enjoyed NYC. Now I even want to live here! ( LOL)
MD) What does pro-wrestling mean to you?
To be honest, I felt I didn't have any goals or purpose in wrestling recently, and I didn't know if I like pro-wrestling or not. That is my concern but since I didn't have any goals, I just wrestled as my routine work. However, as I wrestled here in US for the first time in my career, seeing audience at CHIKARA enjoyed shows and cheering for wrestlers including me, I realized I LOVE wrestling. I had a great experience thru my matches at CHIKARA. Everybody gave me lots of power and energy and this was precious experience for me. I guess you won't feel as same as me unless you're wrestler, but wrestling here in the US was much fun experience than what I expected.
MD) Lastly, can you give some message to American fans?
Thank you very much for your support this time. You are awesome. I wish to come back here again to see all of you sometime in the near future!
ホーム > タグ > AJW
ページ

最近の投稿

カテゴリ

アーカイブ

タグクラウド
検索

Calendar

« 2020 年 7月 »

| M | T | W | T | F | S | S |
| --- | --- | --- | --- | --- | --- | --- |
| | | 1 | 2 | 3 | 4 | 5 |
| 6 | 7 | 8 | 9 | 10 | 11 | 12 |
| 13 | 14 | 15 | 16 | 17 | 18 | 19 |
| 20 | 21 | 22 | 23 | 24 | 25 | 26 |
| 27 | 28 | 29 | 30 | 31 | | |

Video

Recent Entries

Categories

Archives

Tag cloud

Pro Wrestling

Proresu

Wrestling Fan Sites

Blogs

Music

Meta